The next time you plan a trip to Thailand, you may want to consider doing away with Bangkok and heading north to Chiang Mai instead.
Chiang Mai is the largest city of northern Thailand and the former home of the Lanna kingdom. Chiang Mai is quickly gaining popularity as a well-loved southeast Asian destination. In fact, many visit once and end up never leaving.
You'll discover a whole new kingdom where old meets new; modern buildings and artistic graffiti stand side by side with shimmering golden temples. However, it can get humid; the best time to visit is between October and April. Flights from Bangkok only take a quick hour, and this route is served by a handful of regional and domestic airlines.
Make sure to pack an appetite, because Chiang Mai is renowned worldwide for its unique cuisine. Once here, do away with the traditional pad Thai, tom yum soup, and papaya salad that you can find elsewhere in the country. There is so much more to the flavours of Northern Thailand, whose cuisine been greatly influenced by its neighbours China, Laos, and Burma.
Chiang Mai also has a cool jungle climate which produces a colourful array of special ingredients that contribute to its dominant aromatic and salty flavours.
The food of Chiang Mai alone is worthy of a visit, one that epicures are sure to appreciate. Here are four iconic dishes you should look out for:
Khao Soi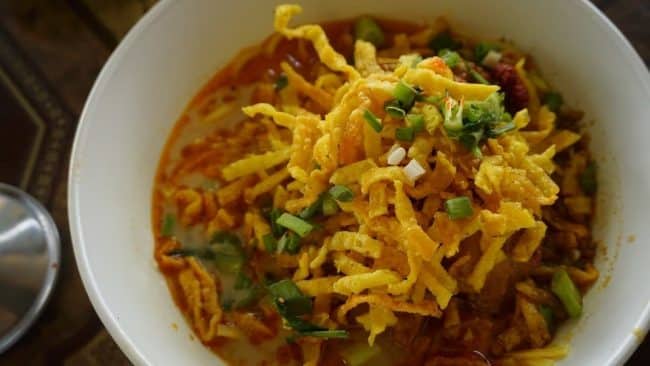 Perhaps Chiang Mai's most famous dish, Khao Soi is a yellow egg noodle curry soup. The rich saffron-coloured soup is made from chicken stock thickened with coconut milk. A generous serving of soft egg noodles, stewed chicken, and various aromatics ties the whole dish together.
Don't forget to squeeze some lime juice before you dig in. Vegetarian, beef, and pork versions of Khao Soi are also available. This dish can be found in several food stalls and markets throughout Chiang Mai.
SP Chicken

Chiang Mai is famous for its roast chicken, but the best one of all is from a restaurant called SP Chicken. You will be greeted by rows of fragrant aromatic rotisserie chicken at the restaurant entrance, but this is unlike any other roast chicken you've had.
It's incredibly juicy, has smoky flavours, crispy skin, marinated in Thai herbs and spices, and served with a variety of sauces that go perfectly with steamed rice. SP Chicken also has a terrific selection of other side dishes to go with your chicken, and their Thai iced tea is the perfect drink to wash it all down with.
Khao Kha Moo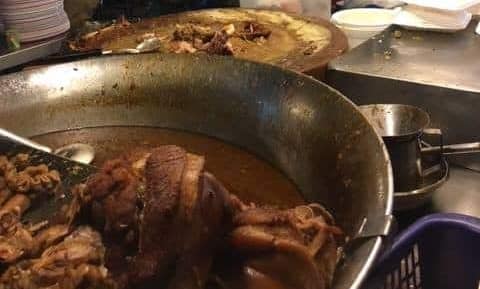 Khao Kha Moo is a carnivore's delight. The superstar here is the succulent pork leg served with rice, and sides that provide a complex palate of flavours such as the garlic chilli sauce and pickled mustard greens.
This dish has been replicated in many parts of Chiang Mai, but only the cowboy hat lady of the Chang Phuak night market can truly do it best. Look out for her stall when visiting the night market for dinner; she's hard to miss with her distinct cowboy hat.
Don't be surprised to find a long line because this dish has been talked about the world over. One bite will tell you why.
Sai Oua

Sai Oua, or northern Thai sausages, are easily found at food vendors and markets around town. What makes these sausages delicious is their unique blend of ingredients which include kaffir lime leaves, lemongrass, and galangal finished off with a smokey flavour from the grill.
Many of them also incorporate chillies, but the spice is never too overwhelming. The sheer combination of ingredients makes the sai oua a must-try delicacy in Chiang Mai. It's eaten as finger food, but it also goes well dipped in sauce and served with sticky rice; downed with a local beer, of course.
&
Don't leave Chiang Mai without visiting the Warorot Night Market, just one of many available in the city. The Warorot Market has a dizzying array of street food from all parts of Thailand and even other Asian countries, with around 30 stalls ready to serve you piping hot comfort food. You know it's good quality because you'll see locals purchasing food here to take home.
As a bonus, the best food in Chiang Mai is all relatively inexpensive. More often than not, the most delicious local dishes are found in nondescript shacks on the street and markets that may be devoid of ambience but are big on taste.
When your palate starts to crave diversity, Chiang Mai also has several terrific western restaurants thanks to a large ex-pat population.